If you ask horse racing enthusiasts, the answer will not be long in coming.
First off, who doesn't love a good competition, right? Horse racing games provide the thrill of the race, the rush of adrenaline, and the excitement of victory. All from the comfort of your home. You can live out your wildest dreams and win big races in these games. Achieving victory in a virtual race can be just as exhilarating as winning a real one, isn't it? Especially when you make a good bet and win real money.
That's because modern horse racing games are pretty realistic. They recreate the environments that let you experience the thrill and thunder of racing. All thanks to cutting-edge technology, in particular, the use of graphic and physical engines that enable you to ride through exciting adventures right from your computer, phone, or tablet.
While video games get you to experience the excitement of a horse race, let's not forget about the strategy. If you've always dreamt of finding the right application for your great strategic skills, a horsing video game will put you in the right setting. When playing the game, you will have to make strategic decisions about stable management, picking a suitable race, and finding the right time to make a move during the race. We bet this will keep you riveted to the game.
Plus, what can be more rewarding than coming out on top of the game when you compete with real players or friends? Many games offer multiplayer functionality, so you can simulate horse racing with other people.
But at the end of the day, horse racing games are just plain fun. They're a chance to escape the stresses of everyday life and immerse yourself in a world of fast-paced excitement and friendly competition.
Different types of horse racing games
Do you feel like exploring the world of horse racing games? Let's take a look at some of the different types of them out there.
Horse racing management games. These games put you in the shoes of a stable manager, where you'll need to make all the tough decisions that come with running a successful racing stable. From buying and selling horses to hiring staff and managing finances, you'll need to keep everything running smoothly to come out on top. For instance, you may want to discover the realm of "Starters Orders" and "Equilino Racing Online."
Jockey simulating games. In these games, you may want to use your jockey's skills to guide your horse to victory. That's where you experience the thrill of a ride. Explore "Ride! Equestrian Simulation" and "G1 Jockey" to saddle up and enjoy action-packed gameplay.
Arcade-style horse racing games. These games are all about speed and excitement. You'll take control of a horse and race against other riders, jump over obstacles and collect power-ups along the way. You'll get a thrill in "Derby Owners Club" and "Pocket Stables" video games.
Betting games. These games let you place bets on virtual races and watch your chosen horses compete for the win, just like in real-world racing.
So whether you're a fan of realistic simulations or arcade-style games, there's a horse racing game out there for everyone.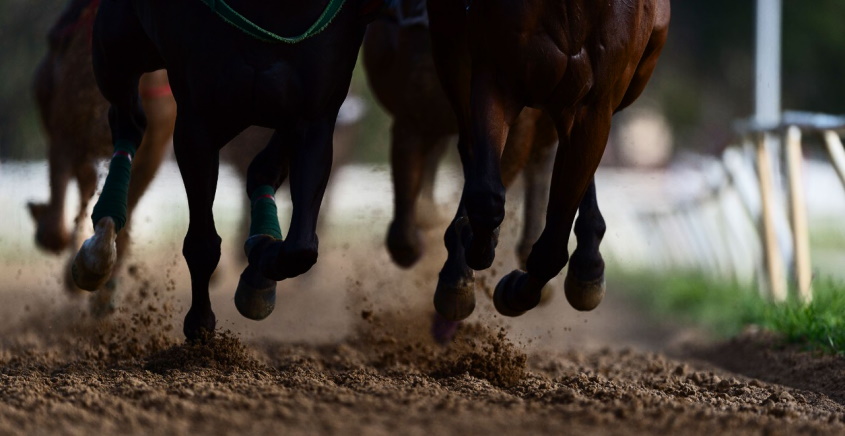 Free horse racing games options
Are you ready to hit the racetrack but don't want to spend a dime? No problem, as plenty of free horse racing video games are out there to satisfy your racing itch. And the main part? You don't even have to leave your couch to enjoy them!
So, why you may want to discover free horse racing games online? For starters, you get to experience the delight of horse racing without breaking the bank. You can test out different strategies and tactics to see what works the most optimal way for you, all without risking any real money. Plus, it's a great way to kill some time and have fun.
There are free horse racing games for any taste. Download the game to your mobile to play it on the go. Web-based games are another option, and they offer a wider variety of plots and game ideas. Desktop games tend to be more in-depth and realistic, with advanced graphics and a wider range of customization options.
Real money horse racing betting options
Betting on horse races can be an exciting way to add a little extra delight to your day and, if you're lucky, earn some extra cash, too. But what are the options?
In addition to standard horse racing games betting, you may also be offered many betting options. With these bet types, you get a chance to win big. However, the parameters you pick may affect the potential payout and the risk level. So, here are a few popular betting types you may want to consider to test your luck and break the bank:
Straight bets. That's the easiest type of bet to grasp: you just pick a horse to finish first, second, or third in a race. The payout will depend on the horse's odds of winning. There are three types of straight bets:

Win – a wager on a horse to win.
Place – a wager on a horse to finish second.
Show – a wager on a horse to finish first, second, or third.
Exotic bets. These types of bets require a deep understanding of horse racing and handicapping, so they are a preferred choice for professional bettors. They offer the potential for higher payouts but are also riskier than straight bets. Here, there are multiple horses in a single bet like:

Exacta – a bet on two horses to finish first and second in the exact order you specify.
Trifecta – a bet on three horses to finish first, second, and third in the exact order you specify.
Pick bets. As a subtype of exotic bets, pick bets involve selecting the winners of multiple consecutive races. They may be the most difficult to win because the bettor has to select horses that must win their respective races in order for the bettor to win the wager. Along with the risks, they offer the potential for much larger payouts.

Daily double – a bet on the winners of two consecutive races.
Pick 3, Pick 4, Pick 5, etc. – a bet on the winner of three, four, or five consecutive races.

Head-to-head bets. This is another sophisticated betting type where you pick which horse will finish ahead of the other horse in a specific matchup. The goal is to define which horse will perform better, regardless of the overall outcome of the race. It may be a good option for those who want to reduce the risks.
How to bet on a real money horsing game?
Choose a betting platform
Ready to bet on some real money horse racing? Here are tips to get you started and hopefully gallop your way to a win.
First, choose a reputable betting platform. There are plenty of options out there, but make sure to pick one with the following:
Legitimacy and licensing. Ensure the platform you select is legitimate and licensed by the regulatory body. This way, you may be certain that the platform works legally and that your funds are safe.
Betting options. Look for platforms that support different betting types to be able to play and win big.
Odds and payouts. Go with the platform that offers competitive odds and payouts. Compare a few options to select the one with a higher payout ratio.
Customer support. It's good to know that you won't be one-on-one with your issues as they occur. So, it is advised to pick the platform with customer support, including via phone, email, messaging apps, or even chatbots.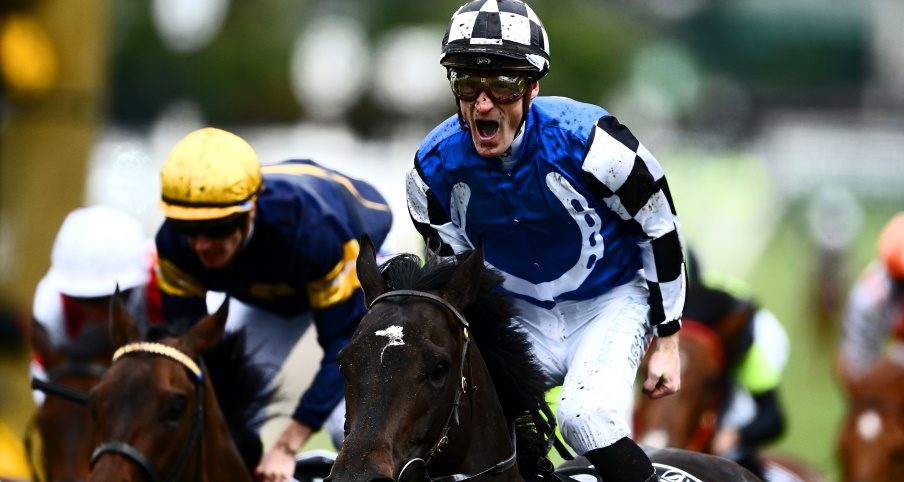 Deposit funds
Are you ready to deposit funds on the chosen platform? First, you've got to create an account. Then, you will be suggested to pick a deposit method:
Credit/debit card. That's the most common way of depositing funds. The platforms may accept Visa, Mastercard, American Express, and other cards. Note that you may be charged a commission for the transfer or have limitations on the amount of money you can deposit.
Bank transfer. Transfer the money directly from your bank account to the betting bank account. Usually, no extra fees are involved, but the money transfer may take a couple of days.
E-wallets. Betting platforms may also integrate e-wallets like PayPal, Neteller, or Skrill to simplify and speed up the process.
Prepaid cards. Some platforms may offer prepaid cards you can use to deposit your account. They are available in offline stores and online.
If you want to use Bitcoin or Ethereum for betting, make sure the chosen platform allows this payment option.
Place your bets
Now that you've got some cash in your pocket let's place your bets! But do not rush into this process. Instead, carefully read the tips to carry the day:
Pick the bet's type wisely. As you already know, every bet type has a specific risk level and payout ratio. Take some time to familiarize yourself with the options and pick the ones that suit your betting style.
Mind the odds. Keep an eye on the odds and choose the horses you think have the best chance of winning. Do your research and look at past performance, track conditions, and any other relevant factors that might impact the race. Higher rates usually mean higher payouts but also involve more risks.
Manage your bankroll. Make a wager with any amount you are ready to lose.
FAQ
Is it legal to bet on real money horse racing games online?
It all depends on a few criteria. The first one is your location. In some countries, online horse racing betting is legal and regulated. In others, it is completely forbidden. So, check the laws in your specific jurisdiction to ensure that you are not breaking any rules.
Second, it's all about the platform you choose. Select licensed horse race betting platforms to place your wagers without getting into bad ways.
How do I know if a betting platform is trustworthy and reliable?
There are a few things you can do to check if the horse racing game apps and platforms are legitimate and reliable. First, make sure the platform is regulated by a reputable authority in the jurisdiction it operates in. Then, study the reviews and see what other users have to say about their experience with the platform. Next, look into the platform's history and how long they have been in business. Finally, a trustworthy and reliable platform will have clear and strict responsible gambling policies to protect its customers.
Are there any restrictions on who can bet on real money horse racing games?
Yes, the authority puts restrictions on who can bet on real-money horse racing games. Though these restrictions may depend on your country or state, here are a few common things for you to consider. The bettor should be at least 18 years old. Also, some betting platforms impose restrictions on certain countries or people with a certain income level or creditworthiness.
Are horse racing games legal in all countries?
Horse racing games are not legally allowed in some countries. So, it's better to check local gambling laws and regulations before you decide to experience the excitement of simulated horse racing and true betting.
What is the difference between horse racing games and real money horse racing betting?
Horse racing games are primarily for amusement purposes, whereas real money horse racing betting has the possibility of monetary gain or loss. Horse racing games are typically not subject to the same level of regulation as real money horse racing betting, which is another reason why real money horse racing betting is subject to limitations and regulations in various countries.